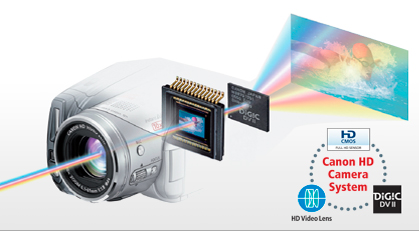 Canon HD Camera System

The Canon HD Camera System is a unique system that combines the three vital elements of a camcorder: a lens, an image sensor, and an image processor. Each of these elements is designed and manufactured by Canon. And because the system is created in-house rather than by third parties, each part works together seamlessly – resulting in unrivalled image quality.
Genuine Canon HD Video Lens
A camcorder relies on its lens to bring memories to life. As the eye of your camcorder, Canon's flawless lens quality is vital for HD.
 
Canon Full HD CMOS
Canon's Full HD CMOS sensor captures all the extra detail required for HD – sensing up to 4x more image data than normal television displays, Canon HD gives you the full picture.
DIGIC DV II
DIGIC DV II is the brains of the camcorder. It encodes all the information received from the sensor, retaining the vivid colour, sharpness, detail and image fidelity of High Definition.
or