VB-M42
The VB-M42 1.3 MP PTZ IP security camera combines a powerful 240x zoom, excellent low-light capability and fast auto-focus. Flexible installation options for indoor and outdoor use.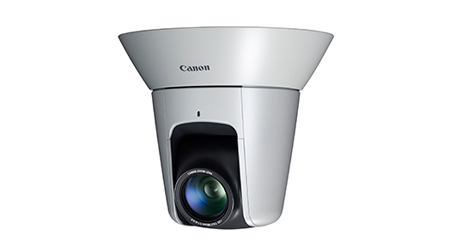 Benefits
Capture clear, detailed images in 1.3 MP resolution at up to 30fps
Increase monitoring flexibility with full Pan, Tilt and Zoom
Enjoy 20x Optical zoom from a compact lens
Superior low-light performance and Auto SSC
Flexible monitoring and recording with dual H.264 streams
Detailed Features
Take a look at a more detailed look into the Canon VB-M42
Superior image quality and best-in-class optics

Protect and monitor your site in 1.3 MP resolution with superior image quality, utilising Canon DIGIC DV III image processor. The VB-M42 features a powerful 20x optical zoom lens with 12x digital zoom delivering a total of 240x zoom. The lens delivers 60.4° wide angle of view (at wide end) and fast autofocus. Pan, tilt and zoom remotely to enjoy 1.3 MP video resolution with excellent low-light performance.


Powerful video performance

Canon DIGIC NET II network processor features an H.264 encoder, which creates both high-quality and high-compression video. Meanwhile, enhanced noise reduction (NR) control and colour reproduction gives you visible colour even in low-light conditions. Auto Smart Shade Control (Auto-SSC) improves visibility of foreground objects in bright backlit scenes. Class-leading low-light capabilities and True Day/Night operation ensures great results in a range of environments.


Intelligent and security focused

Intelligent Functions help operators to identify alarming situations, by analysing differences between different areas. It is possible to use up to 15 functions in parallel on one camera. A choice of six different Intelligent Functions includes Moving Object Detection, Abandoned Object Detection, Removed Object Detection, Camera Tampering Detection, Passing Detection and Volume Detection. Detected activity can be set to activate recording, uploading images to a server or sending an email notification. By using an SD card you can retain and review alarm recorded footage without the content being first downloaded to a PC. SSL/TLS encryption ensures a secure connection between the camera and server.


Enhanced compatibility and convenience

Compliance with the latest, ONVIF v2.4 Profile S makes it convenient to create a solution with ONVIF-compliant video management software. Canon also supports seamless integration through the use of the Canon network camera SDK and HTTP protocol specification.


Easy and flexible installation

The camera can be deployed in multiple indoor and outdoor applications by installing it using a variety of optional housings or mounts. It is easy to power the VB-M42 with a range of possible power sources: PoE, 12V DC or 24V AC.
Product Specification
Find out more about the Canon VB-M42, its features and what it can do.

Efficient Network processing

Manages image quality & control










Multiple camera management
Additional Documents
System Design Tools
Angle Of View (AOV) Calculator
Required Disc Space (RDS) Calculator
Camera Layout Simulator (CLS)
or