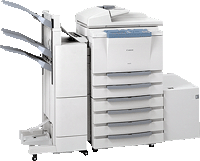 iR 400
A versatile network imaging device combining creative document facilities with a superb range of options for document finishing, network printing, scanning and faxing.
Benefits
Full digital functionality
Scan-Once-Print-Many
Automatic Image Orientation
Automatic Page Layout for booklet making
Confidential User Mailboxes for secure printing applications.
Detailed Features
Take a look at a more detailed look into the Canon iR 400
Product Specification
Find out more about the Canon iR 400, its features and what it can do.
Copyright 2019. All Rights Reserved.
or